Lenny Hybrid, Preschool Size - Dragonfly - Farewell to the Sun
Regular price
$260.00
/
---
LennyHybrid Preschool - half buckle meh dai baby carrier

 For toddlers and preschoolers
Age: 1-5 years
Child's clothing size: 18m - 6x (girls) / 7 (boys)
Perfect for carrying bigger/older children.
Grows with your child: Adjustable width and height panel for a perfect fit and ergonomic positioning at all stages of your child's development, making this carrier a perfect choice for years to come.
The hybrid of what's best
It's like a pre-tied wrap. The comfort and familiarity of a backpack-style carrier with the versatility of a wrap
Print Name -Dragonfly - Farewell to the Sun
***This is a special order-expected arrival 1-3 weeks***
Type of weave - Jacquard

Material Weight: 280 gsm
Material Type - 100% Cotton
Carrier Difficulty - Beginner
Carry types - Back carry, front carry (facing in - tummy to tummy), hip carry, fancy finishes
Maximum rated weight - 66lbs
Minimum carrier requirements:
Sitting in a tripod sit / sitting unassisted
Child's legs long enough for leg to comfortably bend and swing at the knee in the carrier's minimum width position (approx. 18m clothing size)
Child tall enough that the top of the panel does not rest higher than the bottom of the ear in the smallest height position (approx. 18m clothing size)
Carrier Description - An excellent carrier to combine familiarity and comfort. Our Lenny Hybrid half buckle meh dai has a buckle waistband with magnetic pocket and wide wrap arm straps. The pre-sewn seat panel has an adjustable aplix width with helpful size markings and button pull-tab height adjusters on each side. A removable hood can be attached to the straps to hold it in place and is also compatible with matching Suck Pads and Reach Straps set (sold separately) to protect the carrier, hang toys from the carrier, and more comfortably reach the hood when the child is being back carried. Try a pair of medium or large sling rings (sold separately) to add fancy finishes and flair to your carrier!
Highlights:
-Wrap Conversion: Woven from soft, strong, breathable fabrics that mold to you and your little one for maximum comfort
-Reinforced construction: Reinforced to safely support children for the duration of your babywearing days.
-Comfort for the parent: *NEW* Removable shoulder padding for comfortably carrying heavy children. Adjustable waist belt and long, wide wrap shoulder/arm straps ensure a perfect fit for parents of various sizes
Features:

 -Removeable Hood: Comes with a coordinating, removable hood that is easy to attach for head support while sleeping, and for wind and sun protection 
-Magnetic Pocket: Placed on the waist belt. Practical and handy with a super easy magnet fastener. Will easily contain a phone, keys and other necessary accessories
-Safety: The certificate of compliance with safety norms PD CEN/TR 16512:2015 and ASTM F2236 - 16a
***Please note*** Actual colors and pattern placement may vary from pictures. The color of the buttons can vary from the one presented in the pictures.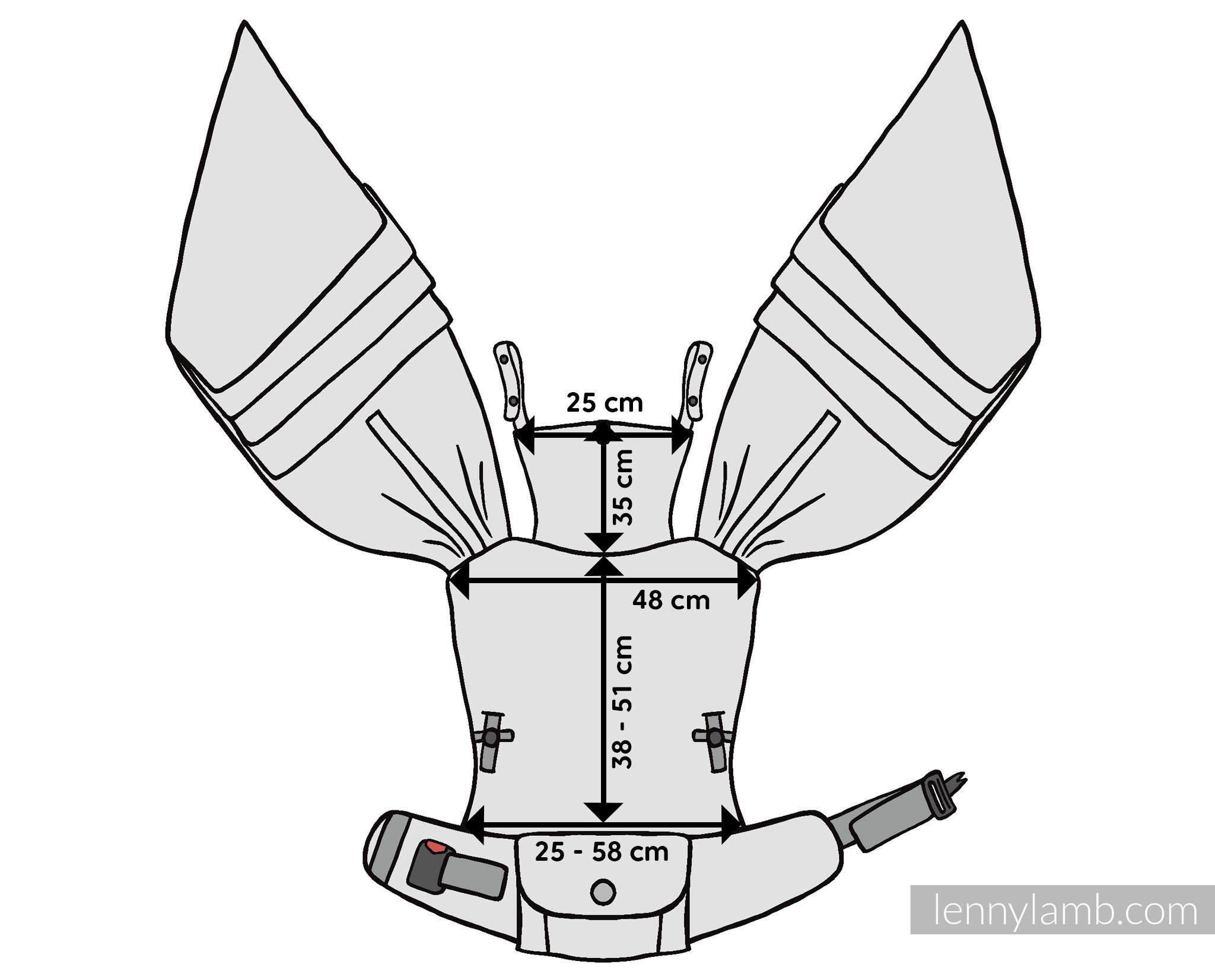 Permissible measurement error + or - 3cm (1.25in)
Dimensions:
Width of hood: 25cm / 9.75"
Height of hood: 35cm / 13.75"
Width of top of panel: 48cm / 18.75"
Height of panel:
-Minimum 38cm / 15"
-Maximum 51cm / 20"
Width of panel:
-Minimum 25cm / 9.75"
-Maximum 58cm / 22.75"
 Check out our video with the tester Lenny Hybrid and compare to other carrier types!
Want to learn more about the Lenny Hybrid preschool carrier? Check out our blog post here.